Discover Whether Paint or Wallpaper is Better in Your Home
Confused about how to add life and color to your walls with paint or wallpaper? Let's compare the two and see which is right for your home.
One of the decor elements I am so friekin' excited to jump into once we purchase a new home is wallpaper! In the past, we've always played it safe and chosen paint for adding color to walls. And with a billion shades of white alone, why venture beyond the world of paint?
There are LOADS of reasons actually! I'm not saying wallpaper is any better than paint – quite the contrary. But it's important to understand the pros and cons of both, as a home owner who may be confused about which to choose.
The fact is, wallpaper went on hiatus for a few decades there! It was massively popular in the 60s and 70s, kind of disappeared in the 80s and 90s and in the last ten years or so, it's making a huge comeback.
Nowadays, home owners are choosing wallpaper in creative new ways! Incorporated into shadow box trim, floor to ceiling powder room glam and even children's bedroom accent walls. These days there are also loads of different types of wallpaper from peel and stick to foil.
And I couldn't be more excited about these possibilities! What about you?
Are you someone who loves the the look of wallpaper but is afraid it won't last? Maybe you are all about paint but struggle choosing anything other than Eggshell or Revere Pewter?
You are NOT alone! This is one of the most difficult and frustrating choices home owners need to make. So let's dive in together and learn about the differences between each, when it's best to use one over the other and what might be right in your specific home.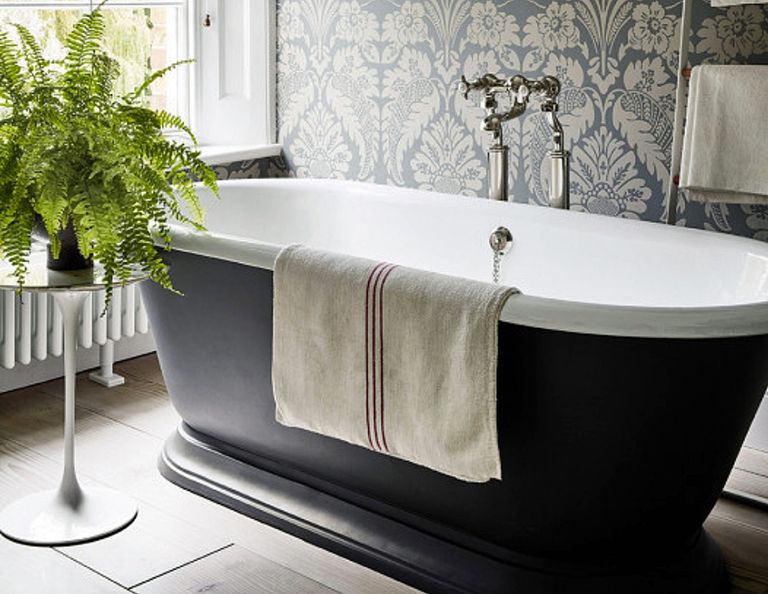 Comparing Paint and Wallpaper
Most people automatically assume because there is a professional application to wallpaper that is the more expensive of the two. And truth be told, you will pay a price to have quality wallpaper hung the right way.
But selecting the right quality paint will also run you a pretty penny. And choosing a cheaper brand will only require more coats of paint, more cans – which ultimately means more money.
Eventually it all just evens out, doesn't it? And if you're smart about where you are placing wallpaper in the home (see below for room recommendations), the wallpaper should last well beyond the lifespan of paint before it needs to be refreshed.
From a selection standpoint, paint is of course the clear winner! There are only so many wallpaper patterns and textures (although the advancement in manufactured wallpapers has grown in leaps and bounds!), while paint options seem endless. Just never-ending, really!
There are literally more than 300 grey paints alone on the market today. Talk about options!
And when it comes to versatility, again, paint is the obvious choice. With the minimalist decor style growing in popularity, a single color can literally cover an entire house! Yet, the same cannot be said for wallpaper. For one, it would look very over-designed and two, it would cost a fortune!
So as you can see, there are pros and cons to both. You cannot go wrong with either and the perfect balance of paint and wallpaper can work beautifully in any home!
RELATED ARTICLE: Easy Chalk Painting Tutorial for Beginners
Tips for Choosing Paint Color
Aside from the fact that there are billions of different paint shades to choose from, no one particular shade fits all! What do I mean by that? Well, let's say for example you go to Home Depot one afternoon in search of the perfect shade of Sherwin Williams grey you saw on Pinterest. After thumbing through pages paint swatches, you find it – Repose Grey.
But why does it look so different on the swatch? You chalk it up to the paint swatch square being too damn tiny to tell and decide to bring a sample can home. After applying Repose Grey to several different walls in your bedroom, you're even more confused! Here's why…
A load of factors must be taken into consideration when choosing a paint color. For one, looking at a photo on Pinterest, can result in an epic fail! Photos can be filtered and touched up in many ways altering the reality of what you're really seeing.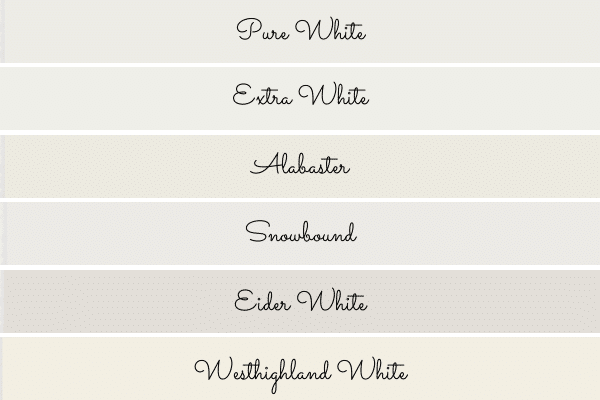 In addition, when you see the color for the first time in a brightly lit store such as Home Depot, the color is illuminated in an unnatural way. A store clerk once recommended that I go over to the lighting section and hold the paint swatch under a lamp to get a sense of what the color would look like at night. Great idea!
The other component which you won't actually find out about until bringing the paint home is natural lighting. Every home and every room will factor differently here. What direction to the sun is your home facing? Do you have tall trees in your backyard which will provide less sunlight in the summer months?
All of these components play a huge role in choosing the right paint color. So what's the answer, go insane?! Definitely not! I have a little secret that I've used in the past and it's never steered me wrong when selecting paint.
Here it is.
Most decor photos on Pinterest are lightened. Never darkened. So bring several different photos with the same paint color for reference. They each look a little different don't they?
When you go to the store and find the paint swatch, head to the lighting department and hold the swatch under a lamp. This will give you a better idea of what the color will look like inside a lit room of your home, as opposed to the illuminated lights at Home Depot! Purchase a sample – and THEN (here's the secret), purchase a color two shades lighter.
Why?
In most cases after I've chosen a swatch (oftentimes inspired by an image I've seen on Pinterest), I've realized it's too dark at home. Sometimes after the entire space has already been painted (poor Tony, my husband)!
Having a color that is two shades lighter will most likely give me what I want – and also what I've seen on Pinterest. Make sense? Give this a try!
RELATED ARTICLE: How to Choose a Decor Style as a Confused Home Owner
Which Rooms Work Best with Paint or Wallpaper?
It's important to understand the risk factors to choosing paint or wallpaper in different rooms throughout your house.
Dining Room
An ideal location for wallpaper and a surefire way to enhance this special space. Stick with something neutral and calming but that also makes a statement without stealing the show. In general, dining rooms do not get as much use, so wallpaper will last over time.
Family Room
Meant to be a welcoming and relaxing space, my personal opinion is to paint a Family or Living Room. If that's not exciting enough for you, adding some trim work like molding and shadow boxing will certainly add dimension and luxury to the room.
Kitchen
There are tons of reasons why you see paint and tile in kitchens versus wallpaper. It simply won't last! Think of all the spills and splatters that happen in your kitchen. For a high-functioning room like this, painted walls and tile/stone backsplashes are much more sensible. You'll thank me later!
Bathrooms
Rooms with humidity and moisture are guaranteed to ruin wallpaper, even the most durable. My one exception to this rule is in a downstairs powder room, which does not contain a shower. Typically powder rooms with only a toilet and vanity sink don't produce much moisture. So wallpaper is safe here.
Bedrooms
Another great spot to get creative with wallpaper, either the entire room or one accent wall. The one exception to this is if you have young children who still think the walls are craft paper for coloring and finger painting. In that case, wait until they're tweens to invest the money.
Foyer
Personally, I would always opt for paint regardless of how large or small the foyer is. Wallpaper should be reserved for more intimate formal spaces and foyers are…transitional. Meaning, visitors are moving throughout the space, not relaxing and getting comfortable there. So the need for a unique decorative element like wallpaper is probably not necessary here.
Closets
Your choice here! If a closet is your place to bury all the crap in your house that you want hidden, don't spend time or money decorating it. But for a master walk-in closet that you wish to add a little touch of glam, wallpaper can be a fun choice.
Basement
These days, finished basements can look more like country clubs with bathrooms, bars, gyms, saunas, and movie theaters. But don't be fooled! You're still at the lowest portion of any home, closest to the foundation. Which means if moisture or flooding affects the home, you can bet the basement is the first to get hit. For that reason, similar to the bathroom and kitchen, choose paint here.
Home Office
Depending on the formality and use of this room, both could work. In many homes with a more showy front office, masculine or statement wall paper is definitely appropriate. But in a more functional (not necessarily pretty) working office, paint is simply the easier and more practical choice.
What Kind of Wallpaper Should I Use?
Peel & Stick Wallpaper
If you're looking for a true DIY wallpaper project, this is the way to go! It's an effortless way to transform any room in a short time. RoomMates offers a beautiful selection of peel and stick adhesives. Their brand promise is that it stays on for as long as you want, but always removes without sticky residue or damage to your walls.
Liner Wallpaper
Made from paper or fiberglass =, it can be used as a base for more delicate wallpaper types. It can also be used alone – even painted! It is said to be easy to apply and remove.
Printed Wallpaper
Available in a wide variety of colors and patterns. Digitally printed wallpaper is normally less expensive than hand printed – but can tear easily. The printing is also water based so this type of wallpaper should not be used in bathrooms, kitchens or basements.
Vinyl Wallpaper
This type of wallpaper is composed printed paper coated with a layer vinyl. It is the most commonly used type of wallpaper, currently, because of its high durability. The thicker the vinyl coating layer is, the more durable the wallpaper will be. Vinyl paper can be used in kitchens and bathrooms, as it can of withstanding steam. It is can also be washed, making for easy maintenance.
Foil Wallpaper
If the look you're going for is metallic and shiny, this is the wallpaper for you. Due to its high reflectivity, foil wallpaper highlights wall defects. So, the base wall needs to be repaired, treated, or covered with lining paper first.
Flock Wallpaper
Flock wallpaper is distinct for its fuzzy three-dimensional patterns, created from a velvet-like fiber that is printed on a base of paper. It is one of the most expensive wallpaper types, yet it is hard to maintain. Its velvety texture reflects a sense of luxury; however, it is not washable and could be hard to remove. Accordingly, it is best used for rooms with lower traffic, like the master bedroom or guest room.
Bamboo Wallpaper
This type is handcrafted from natural bamboo and glued to paper. It is environmentally friendly, and its hue varies from one roll to another owing to its natural base. However, it requires delicate treatment when gluing and installing as the adhesives can ruin its appearance, and it is not washable.
Final Thoughts
I hope this was helpful in pointing out the pros and cons of wallpaper or paint in your home and which is better for what rooms. The bottom line is that you can decide whatever you like – it's your home! That's the good news 🙂
I plan to write a whole lot more about this topic in future articles such as the application process for wallpaper and exciting room transformations!
Keep a look out for these fun pieces and as always, email me with ANY home decor questions. I just love talking about this stuff!