Proven Secrets for Restoring Wood Furniture Like a Pro
Tips and tricks for how to restore your beautiful wood furniture to look like new.
While it might seem like restoring wood furniture is something only a professional can do well, think again! There are loads of easy applications you can do right at home to repair and restore wood furniture so it looks beautifully new!
And take it from someone who has made all the mistakes and perfected my approaches along the way. You're in good hands.
Several years ago, before our family moved abroad to Europe, I was running a furniture painting and restyling business – right out of my garage! Read my About Page to learn more about the story of my little furniture business. It started with a tiny accent table of my late Grandmother's and after two years was booming!
But in the process of working on all different kinds of pieces, I was met with a variety of obstacles along the way. Corners chewed by dogs, entire chair legs broken off, old water stains and the like!
Did I have all the experience at the time to tackle these damages? Absolutely not! But with trial and error (and countless trips back and forth to Home Depot!), I was able to learn some valuable tricks. I really impressed myself to be honest and my clients were always thrilled with the results.
Total win!
So if you have a special piece of wood furniture that is in major need of restoring, but you can't imagine paying someone to do the work, roll up your sleeves! These secrets I've learned along the way will help give your beloved furniture the upcycling it needs.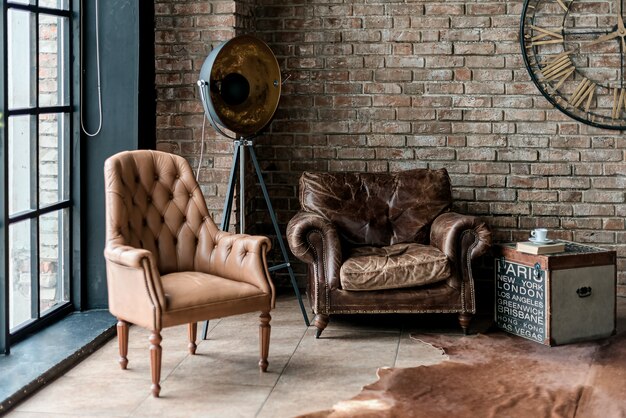 My Secrets for Restoring Wood Furniture Like a Pro
The exciting thing about antique or second-hand furniture is its history. Whether you found a gorgeous armoire on the side of the road or your Great Aunt Ruth passed her sought-after sideboard buffet down to you, furniture always has a rich story to tell.
Unfortunately this also means the furniture has age – which comes in the form of dull finishes, nicks and scratches, stains, or worse damage. Here are some of the conditions I've experienced from customers that dropped their sacred pieces off at my doorstep for repair.
And while it wasn't always an easy fix, it was always salvageable!
Water Stains
I'll never forget the sweetest little old lady that heard about my furniture repair services through a friend. She called me on the phone one day to explain that she had a beautiful two-tiered side table from the 60s. Someone had laid a paper envelope on top and then spilled a liquid, which ultimately left a nasty water stain of the envelope right on its surface.
She tried everything to cover it up and was ready to put it by the curb. I was her last hope! No pressure at all, right? The solution, after some research, came down to two ingredients found right in my kitchen.
Olive oil and salt. Sounds like a salad dressing right? But actually this no frills mixture saved the day!
First, I mixed a little olive oil and salt to form a thick paste
Then, I applied the paste to the affected water stain area
Next, I let the mixture sit for an hour which allowed the oil to soak into the wood and the salt to pull the moisture out.
Last, I rubbed away the paste mixture to reveal a beautifully restored surface
I ultimately gave the table a fresh coat of stain so the finish was consistent and any remaining faint water damage was covered
Faded or Worn Wood
Over time, finishes dull and loose their protective layer. The quickest and easiest way to give any furniture piece an immediate face lift is to restain it. But before you run to the hardware store and start matching shades of the first stain you find, think again!
In my experience with restaining furniture, choosing a natural wood oil will warrant the same, if not better, results! And is also much healthier for the wood itself.
For example, coconut oil not only rehydrates your wood, but also restores your wood's natural color and soft glow. It may appear to "stain" the wood darker, but it's actually a restoration of the healthier, natural color. In addition teak oils, linseed oil, and walnut oil can also work wonders.
Always lightly sand down the old finish so you begin with a clean slate before applying any oil.
Rebuilding Corners & Furniture Legs
So how the heck do you handle repairing the corner of a giant wood chest that was chewed by a dog?! This was one of the trickiest projects I had thrown at me but I was up for the challenge. And the solution to recreate the corner of this table was going to take more than just wood putty.
After some extensive research, a product I never assumed ended up being the answer. The name is called All-Purpose BONDO and it's actually used on automotive finishes. Think of it like a furniture putty…on steroids!
Purchased at any hardware store, BONDO is perfect for restoring small and large missing furniture pieces. And totally did the trick on the wood chest.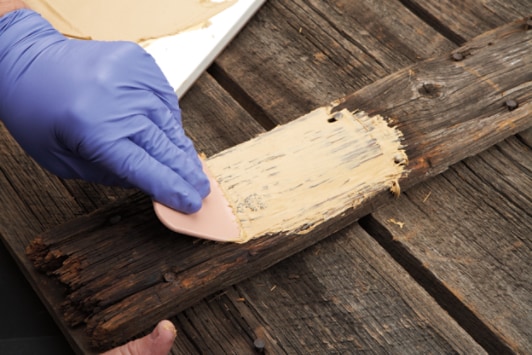 The can contains putty and a separate liquid hardener
When you've prepped the furniture and are ready to apply, scoop a spoonful of putty onto a plate (open a window, the scent is strong).
Add a small amount of hardener. More can always be added later, but the more you use the quicker the product will harden.
Using a putty knife, apply the mixture to the furniture section and smooth
Product will harden within minutes, so be sure to work quickly!
You will need to use sand paper/blocks to eventually smooth out and achieve the shape you want.
Your best bet is to now paint over the furniture piece instead of staining it. Stain will not be absorbed by the BONDO and will leave a discoloration. But chalk or milk/mineral paint provides the full coverage you need.
Filling Tiny Holes
Ever notice tiny little holes on the surface of your furniture? What about a small dust pile next to them? This is likely to be the result of 'woodworm', or more accurately, the larvae of wood boring beetles. Don't worry, it's not uncommon but should be treated immediately.
Most people, myself included in the beginning, resort to a wood putty for this sort of problem. But as mentioned above, sometimes stains don't fully cover the area where putty is applied. Plus, the wood beetles are capable of gnawing right through putty, can you believe that??
So a neat little trick I learned to cover up those pesty holes is to gently hammer toothpicks or skewer sticks into the holes. After you've sanded it down to a smooth finish, you're ready to apply stain!
Unless your piece looks like the below photo with LOADS of tiny holes. In that case, crack open your beloved can of All-Purpose BONDO again and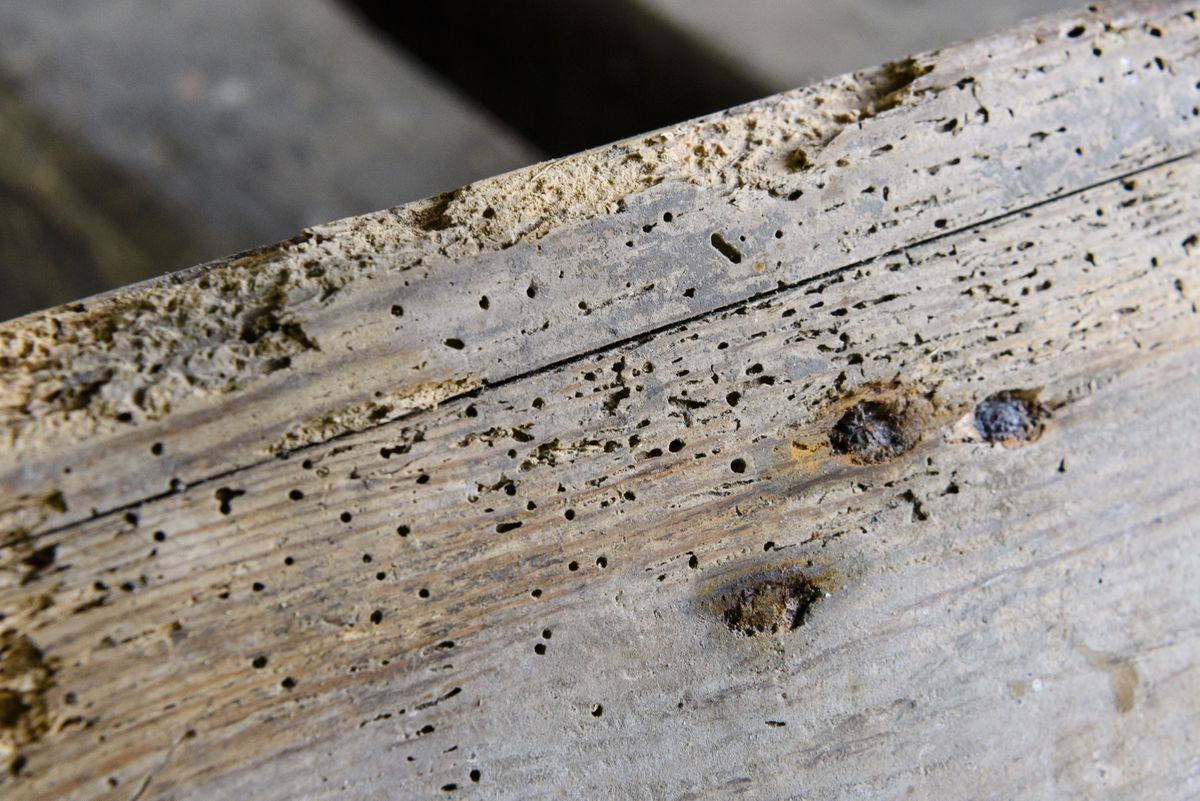 Restoring Veneer Surfaces
Many times on older, second-hand pieces of furniture the area which needs the most improvement is the top surface. Plates stacked, vases displayed – after years of functioning, surfaces need restoring.
Most antique wood furniture is covered with a layer of thin veneer on top, which gives the appearance of an expensive wood grain finish. It's different than laminate which looks less expensive and has a shiny finish.
But veneer has a tendency to chip or lift from its glue rather easily.
With a putty knife and a careful hand, veneer pulls up rather easily by starting at the edges and pushing down without scratching the original wood underneath.
In this case, you would want to replace the entire top with a new slate of veneer by gluing to the surface.
Your other option if the veneer is only lifting in small sections is to glue them back down, when possible, and then paint or stain.
When veneer only needs repair in a small section, BONDO is your answer (see above for how to use this miracle product!)
Replacing Hardware
The best way to immediately transform a piece of furniture in a matter of mess-free minutes is to replace the hardware! Hinges, drawer pulls and knobs are made these days in every color, shape and size! I'll be writing another article about how to pick out the perfect furniture hardware.
But here are a few tips on how to actually replace them, since it's not always as simple as it might seem. For one, furniture from certain parts of the world produced centuries ago, like the pieces I've found while living in Barcelona, do NOT come with a hardware screw that can be easily removed from behind.
Nope, learned that one the hard way! In that case, my husband and I used a sharp pick to pry the hardware off from the front. Sometimes the wood got damaged, sometimes the drawer pull did.
Always check how the original hardware is installed first and then make a plan for if it's worth removing.
Some people like the style of the hardware but maybe not the color. In which case, you may want to dry brush paint right over it for a vintage French Country look.
Spray painting hardware is also a fantastic option. Take old iron knobs and transform them into metallic gold glam for a quick upcycle look.
Ultimately if removing and replace the hardware is your goal, be sure to purchase the new pieces with similar screws to match the existing holes. Otherwise, you're in for additional work including wood filler and drilling.