How to Choose a Decor Style as a Confused Home Owner
If you're confused about which decor style is right for your home, find out which best reflects your personality.
Whenever a friend of mine is confused about decorating something in their home, I usually ask to take a look at their Pinterest account. You can tell so much about someone's personal style and interior design choice based on what they've pinned!
And these days with literally billions of home decor pins on Pinterest, one thing is clear. It can be easy to find things you like – but also very confusing to try and define a true "style". What I look for when it comes to interior design style is similarities across a person's pins.
What do I mean by that?
Is the person pinning more modern looks or traditional? Are they into bold colors or neutrals? Does it appear they like minimal style or more eclectic? This is a good place to start and helps give me a sense of what the overall look is that they're going for. Do you see any trends in your own Pinterest account?
Take a look at mine, The Styled Ivy if you like, to get a sense of consistency and similarities across pins. As you'll see later on in the article, I reveal what my personal interior decorating style is. And it's always evolving, ya know?
This month I might love those wood bead garlands everyone's obsessed with. Next month, they might be stored away deep in a closet. And that's okay, guys!
Everyday we're working on ourselves. And with that comes the growth of our personal style, reflected in the spaces we dwell.
Finding your interior decor style doesn't have to be overwhelming. Start at the basics by pinning consistent looks on Pinterest and learning how to categorize them.
Then read this article to learn which of the most popular decor styles appeal to you. Decide which one sounds most like your taste!
If you still aren't sure after that, it might be fun to take a home decor quiz. A few high level questions about your interior design preferences will help better define your style. Try this quick and easy one from Decorist to point you in the right direction.
How to Choose a Decor Style as a Confused Home Owner?
Years ago, like in the 80s when I grew up, there were basically two home decor styles – decorated and not. Home owners either put effort into the way their house was decorated or they didn't. Now more than 30 years later, it seems there are as many different types of decor styles as there are types of cars!
RELATED ARTICLE: The Law of Design: 8 Rules for Home Decor
Why should I define a decorating style?
Listen, there are no laws of decorating that say you have to commit to a particular style. But man, it would make your life a whole lot easier and help save plenty of money if you've narrowed your own home down to a certain look. Otherwise you fall into the trap of overspending and over accessorizing – leaving you frustrated!
Choosing a particular style will give more flow throughout your home instead of a mish-mosh of different looks around every corner. Otherwise the whole thing will look and feel very confusing!
Lastly, selecting a decorating style will compliment your own personal taste. It will offer visitors a glimpse into who you are and what you like. At the end of the day, our homes are meant to be a reflection of who we are. So don't loose yourself in the process while trying to decorate your home.
What if I like more than one decor style?
As long as they compliment each other (see below), great! There is something really fun and empowering about taking two different styles (maybe it's rustic and elegant classic) and combining them. This allows for you to put your own creative personal touch on each and define them how you wish.
For example, if you love boho chic but aren't a fan of some of the more tropical patterns certain boho items have, why not incorporating traditional rugs and neutral pillows to balance out the look? That's just one of many examples where liking two different but complimentary styles can work!
Which home decor styles work well together?
I'm so glad you asked! A great way to be inspired by the combing of two different but similar styles is to grab a few home decor magazines off a newsstand. Just thumbing through the beautiful glossy pages will give you a real sense of how interior designers tackle the ever changing industry of home decor.
Often times, they aren't reinventing the wheel! Rather, marrying decor styles that can work in tandem. And putting a modern spin on them! Genius right?
Not impossible! You too can create similar unique looks in your home by pairing these home decor looks together. Use the 80/20 rule (80% of one style and 20% of the other). Remember to keep things feeling balanced and uncluttered.
Classic Chic and Industrial
Farmhouse and Modern
Boho and Old World
Transitional and Rustic
Aligning the two styles within a similar color pallet will add cohesion and continuity to the space!
Different Types of Decor Styles
Boho Chic
Named as the most popular home decor style of 2020 in the U.S., boho chic can be described as eclectic, exotic and vibrant. It combines items that are relaxed, bold and unusual.
Oftentimes this style consists of bright colors, woven fabrics, and lively prints. Also, plants! You'll be sure to find plenty of plants in any boho chic home.
Typical Boho Chic Decor Items Include: Rattan and wicker furniture pieces, carved wood and natural materials, Moroccan poofs, hanging chairs, floral garland, and botanical motifs.
You'll Love This Style If: You enjoy bright colors, patterns, natural materials, and a relaxing oasis in your home.
Art Deco
Stepping into a space with Art Deco as the decor style might make you feel as if you've entered a different decade, but with a modern twist. Reaching the height of popularity in the 1920's and 1930's, Art Deco is known for rich colors, bold geometry and intricate details. Think of luxury and glamour in the form of shapes. If you're looking to elevate your decor in one simple piece of furniture, purchase an Art Deco style chair or accent table. BAM!
Typical Art Decor Decor Items Include: Geometric wall art, patterned area rugs, stainless steel/chrome and lacquer finished furnishings and accessories which include ebony, zebrawood and marble.
You'll Love This Style If: You are an eclectic individual with an appreciation for art, unique conversational pieces, and expressing your personal style through decor.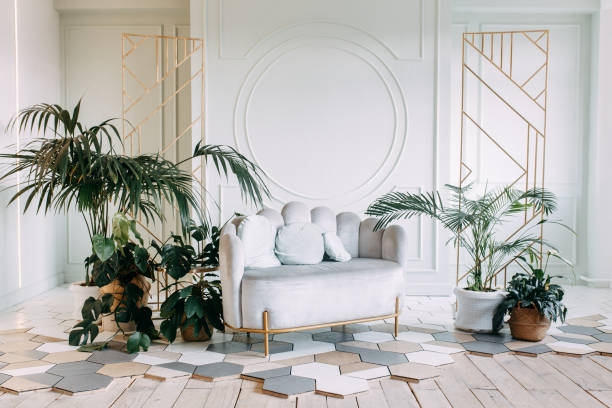 Farmhouse (Traditional or Modern)
Calling all Joanna and Chip Gains fans! The farmhouse decor style has taken the home decor industry by storm thanks to the HGTV power couple and isn't going away anytime soon. That's because it's constantly evolving from the traditional farmhouse style at first, then to the modern farmhouse vibe – and nowadays you may even hear the term GLAM farmhouse! Take your pick…
Basically, farmhouse decor style can refer to anything that is warm, cozy, relaxing, and full of character while being organized and practical. Everyday living for busy, growing families – that doesn't compromise on being charming and inviting.
Typical Farmhouse Decor Items: Vintage metal signs, galvanized buckets/cans, natural wood serving platters and wall art, cotton stems, wicker baskets, knitted blankets, and rustic picture frames.
You'll Love This Style If: You enjoy a homey and quaint feeling to any space, crave organization, and are looking for personalization in your decorating.
Mid-Century Modern
What exactly is mid-century modern style and how can something that has, by definition, gone out of style be essentially back IN style? It's all a bit confusing huh? The Mid-Century Modern decor style describes architecture, furniture and design from the middle of the 20th century (1933-1965).
Typical Mid-Century Modern Decor Items Include: Sophisticated accent chairs and tables, a variety of patterned and colored throw pillows, furniture and decor in orange and brown natural hues, and bolder colors in walls and accents.
You'll Love This Style If: You like simple design without being boring and can appreciate decor from a different era. If you walk around Home Goods, Hobby Lobby or Target and feel "meh" about seeing all the same stuff, try the mid-century modern style!
Industrial
Living in Barcelona as an expat for four years gave me a whole new appreciation for the Industrial style of decor. At first, I wasn't quite sure what to think about exposed pipes, metal furniture and naked light bulb fixtures. But when designed thoughtfully and with balance, the Industrial style can be extremely cool. It's huge in Europe especially in restaurants and Air B&Bs in trendy neighborhoods where the authentic character of a space is still maintained and celebrated.
When thinking about Industrial decorating, the word "raw" comes to mind. The raw materials such as pipes and beams. The raw finishes of natural wood and metals. Walking into an Industrial space should feel cool and modern with an artsy twist leaving very little to the imagination.
Typical Industrial Decor Items Include: Distressed leather furniture, pendant lighting, open design layout, touches of vintage and antique pieces, metal shelving or cabinets, and exposed brick/stone walls.
You'll Love This Style If: You're a fan of the repurposed look that comes with Industrial design and aren't necessarily into department store furniture or decor. You don't like covering up raw materials, but rather showcasing them, since you yourself are authentic and different.
Minimalist
For people that find the Industrial or Farmhouse style to be "too busy", they will probably love Minimalist decor. As plan and simple as it's name, Minimalism embraces the idea that "less is more". Ever watched the Netflix special about organization specialist, Marie Kondo? She's all about decluttering and scaling down to the bare essentials.
Minimalist homes will still feel cozy but are basic to the bone. Every item has a place and a purpose. Harmony and peace are meant to be felt in a home minimally decorated.
Typical Minimal Decor Items Include: Pillows, wall art, greenery, clean lined furniture with little decor, books, candles, decorative but simple bowls/trays, and lots of neutral colors!
You'll Love This Style If: Your personal motto is "less is more" and you find inner peace through the simplicity of your surroundings. You appreciate the basics and aren't into collections or trinkets.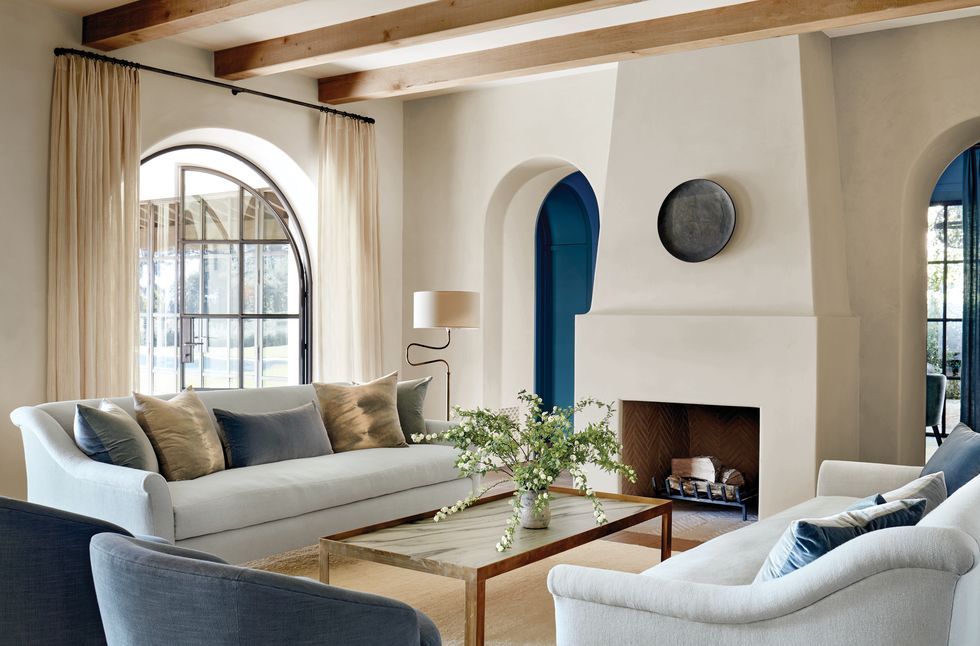 Classic Transitional
I've saved this one for last because it happens to be my personal favorite. If you walk through my house, it's a blend of traditional pieces and modern detailing. I LOVE molding and trim work while incorporating classic furniture and accessories. Throw in a glam chandelier, a bit of wrought iron, and some touches of gold? I'm a happy gal!!
Classic transitional style is an elegant and timeless design motif that combines new and old—and masculine with feminine—in a fresh way. Colors are typically in the neutral family with bold colors often represented in decor.
In general, transitional decorating style tends to often be easier as you can be as expressive as you like while creating a home that's representative of your tastes and completely unique to you as no transitional home will ever look the same.
Typical Classic Transitional Decor Items Include: Wood and upholstered furniture, molding details, framed wall prints, neutral paint colors with emphasis on one single element per room – maybe an accent wall or showpiece furniture item, and a variety of lighting sources from table lamps, ceiling lights, chandeliers, and wall sconces.
You'll Love This Style If: You find yourself hanging onto cherished traditional pieces but longing to incorporate more modern design elements. And this doesn't overwhelm or confuse you. You're not a black and white, one size fits all kind of person. Rather you want to put your own mark on your decor style and plan to do so by blending the old with the new.
Have Questions About Your Interior Decor Style?
I would LOVE to help out and give you some advice about defining your personal decor style. Feel free to email me with any questions, send a photo of your home/room and let's have fun together!
thestyledivy@gmail.com
You can always check me out on Instagram and Pinterest as well!